CLEAR PETG
A durable thermoplastic of a polyether class developed for Anisoprint Composer 3D printin
GET A QUOTE

↗
MATERIAL
ADVANTAGES
Easy printing, high adhesion between layers and low shrinkage makes the printing process more smooth.

The material reliably prints strong thin-walled parts with high interlayer strength – even with some cooling. A good bonus: no smell, low absorption rate, transparent with visible inner structure, convenient for composite carbon fiber lattices.

Clear PETG has a wide range of working temperatures: –40 °C to +70 °C, good resistance to fats and mineral acids. Can be printed together with CFC PETG based composite.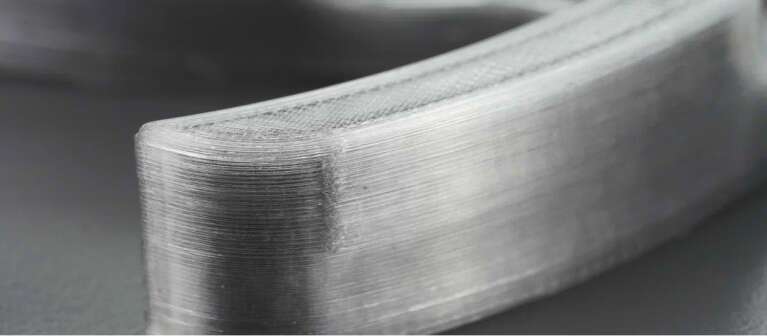 PROPERTIES
In terms of mechanical characteristics, the material is a good all-rounder, suitable for printing durable parts requiring geometric accuracy.
| PARAMETER | CLEAR PETG |
| --- | --- |
| TENSILE STRENGTH (X-Y) | 36.5 MPA |
| YOUNG'S MODULUS (X-Y) | 1.12 GPA |
| TENSILE STRENGTH (Z) | 33.6 MPA |
| YOUNG'S MODULUS (Z) | 1.73 GPA |
| BENDING STRENGTH (X-Y) | 76.1 MPA |
| BENDING MODULUS (X-Y) | 2.06 GPA |
| COMPRESSIVE STRENGTH (X-Y) | 51.7 MPA |
| COMPRESSIVE MODULUS (X-Y) | 1.81 GPA |
| ELONGATION AT BREAK | 2.41% |
| HDT (0.45MPA) | 71°C |
| SHORE HARDNESS (D SCALE) | 76 |
| NOTCHED CHARPY IMPACT | 4.17 KJ/M2 |
Download a full Datasheet
PRINTING GUIDELINES
Make sure you are using the latest version of Aura and your Composer is properly calibrated before print.
TEMPERATURE
Clear PETG is best printed in between 235 and 240°C. This plastic is intended for use in the FFF extruder of A4/A3 models.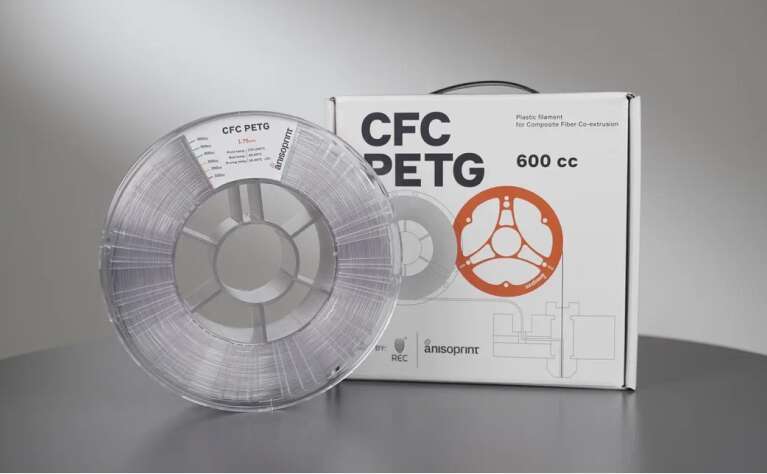 SPEEDS
We recommend 20-60 mm/s for a standard Composer setup. Lower the speed on external shells for increasing the surface quality. When printing on a FFF extruder (Composer extruder for plastic printing only), we recommend 40-55 mm/s, and for the first layers and external shells – 25 mm/s or less.
DRYING AND STORAGE
To avoid excessive moisture absorption, store the material in a cool, dry place. The simplest and very effective way is to put silica gel in the sealed bags with filament. Clear PETG can be stored without drying for weeks (depending on the air humidity), without decrease in printing quality. If it absorbed some moisture, we recommend printing from a drybox or just dry the plastic for 4 hours at 60 °C.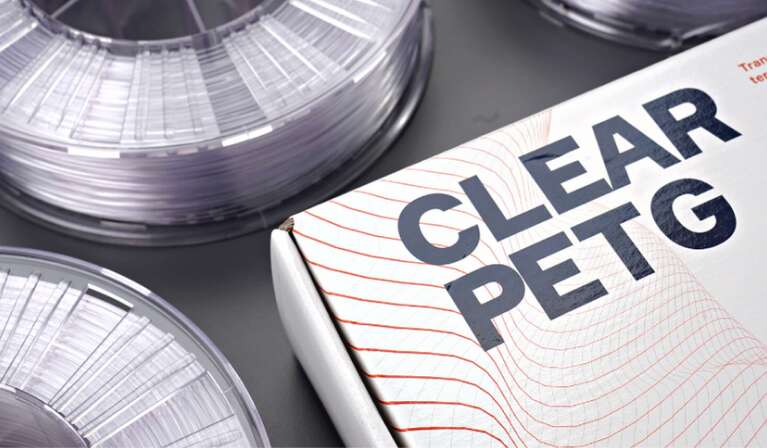 DESKTOP ANISOPRINTING
Best continuous fiber 3D printing experience you can ever have with a touch of a button
GET A QUOTE

↗