Anisoprint keeps moving towards space exploration with collaborations and projects for facilitating space in-situ additive manufacturing of continuous fiber reinforced composites. The current step is another MoU that outlines a collaboration between Anisoprint and Vellon Space to investigate the potential of Anisoprint's composite 3D printing technology to manufacture high-strength, lightweight structures for space applications. Vellon Space will make use of the opportunities of Anisoprint's technology in the harsh and demanding environment of space.
"We are excited to work with Vellon Space to explore the use of our composite 3D printing technology in space applications," Dmitrii Prokopiuk, Head of Space Development at Anisoprint. "Our technology is ideally suited for manufacturing lightweight, high-strength structures that can withstand the extreme conditions of space. We believe that this collaboration will allow us to demonstrate the unique capabilities of our technology in a challenging and demanding environment."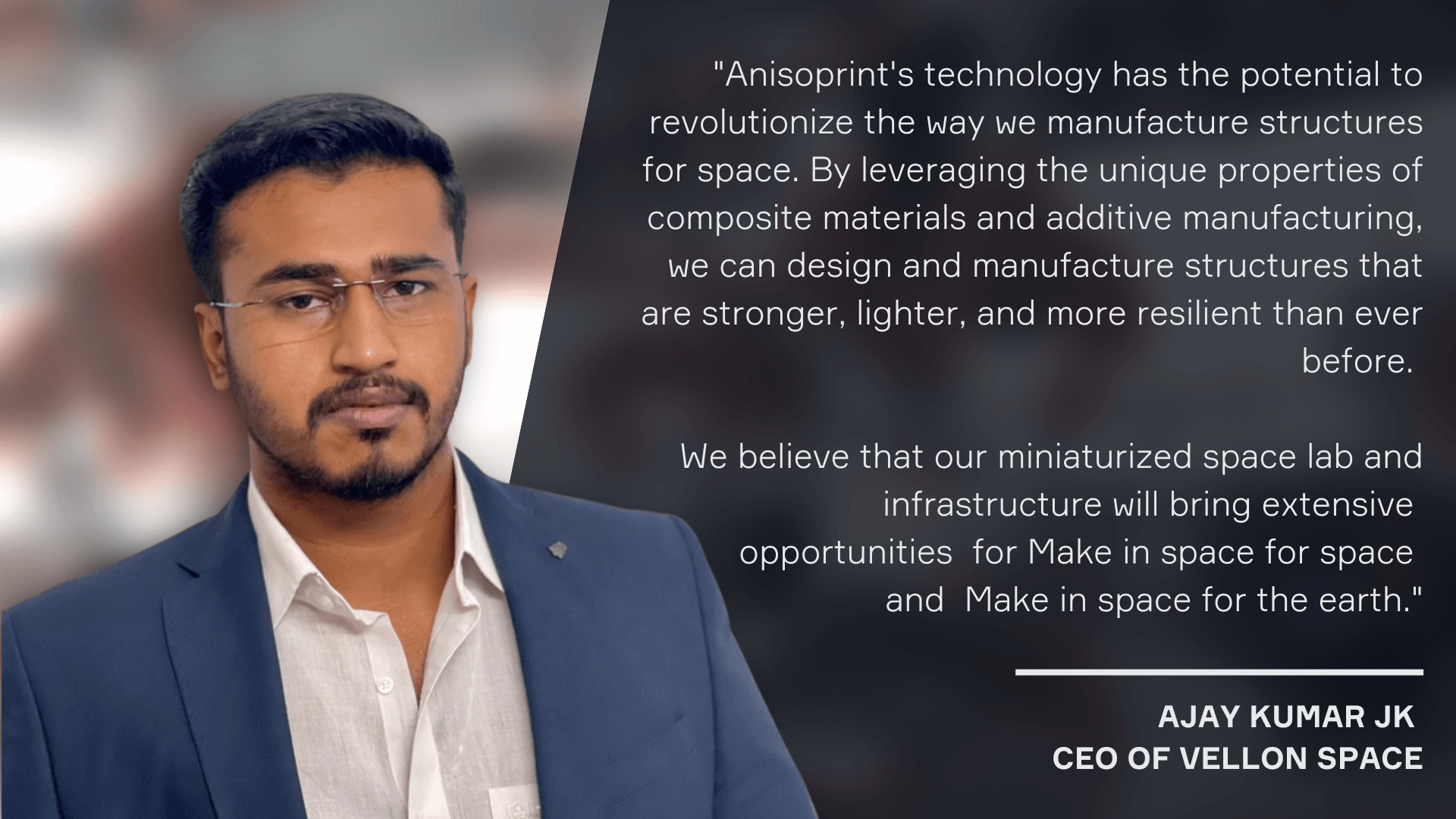 Under the MoU, Anisoprint and Vellon Space will collaborate on testing the manufacturing of continuous fiber reinforced composites for space hardware components, including satellite structures, functional spare parts, and customized components. The two companies will also explore the use of composite materials and additive manufacturing techniques and develop a more sustainable and autonomous presence in space and a more reliable and independent hardware operation.
About Vellon Space
Vellon Space is an Indian space technology startup that aims to bring together the best of what space and space-related technology can offer to benefit everyone by providing access to space & operating in space. We are developing customisable autonomous and miniaturized laboratories for research & development in space.
More information soon: https://vellon.in/
LinkedIn | Twitter | Instagram
​​Contact: space-lab@vellon.in
About Anisoprint
Anisoprint is a Luxembourg-based hardware startup producing 3D Printers that allow to manufacture continuous fiber reinforced plastic parts that can substitute metal ones in aerospace, engineering and many other areas along with cutting costs and increasing productivity.
Continuous Fiber Coextrusion (CFC), the technology that was developed and patented by the company, allows to create lattice structures, which is the key for multimaterial optimization and production. Such parts are lighter, stronger and cheaper than their metal analogs.
Contact us: