With the market trending toward the scalability of additive manufacturing at the highest possible level, PROM IS 500, Anisoprint's largest industrial 3D printer with a build volume of 600x420x300mm stands out from the competition.
"First of all, this is a machine for production. The main idea that drove PROM IS development was to create a universal machine that fits into an industrial environment. There is a big choice of different kinds of high-temperature polymer machines that are in the same price range, though PROM IS 500 is the one for continuous fiber 3D printing and it's capable of doing both high temperature polymers and fiber reinforced composites." — Fedor Antonov, Anisoprint CEO.
PROM IS is designed to bring continuous 3D printing to the next level: meeting the industrial standards for reliability, safety, tolerance, and having all the necessary certifications, and production-grade MTBF, which makes it fully reliable for non-stop factory production. To implement all this, Anisoprint chose to opt for industry level components and made Bosch Rexroth's MTX, a tried-and-proven CNC system, the core element, as mentioned in earlier communications.
The key highlights
PROM IS 500 will come with an entire ecosystem of software that includes Aura as well as new software for design and simulation. This makes it easy to switch from our desktop 3D printing solution Composer to PROM IS.

The open material system that allows continuous carbon fiber reinforcement with

engineering grade plastics such as PA and PC,

as well as high performance plastics such as PEEK, PEKK, PEI, etc. and materials for support structures. The database will be updated with new materials and verified profiles on a regular basis.

A tool changer for up to four printheads with CCF and FFF extruders, that are also capable of handling tools for inserts and probes as a customization option.

Flexible fiber trajectories including lattice structures with various parameters as well as topology and material optimization by the Additive Flow's Formflow and Aura workflow for the best weight-to-strength ratios for parts.

Adjustable manufacturing volume of lightweight high-loaded parts with complex shapes, such as for UAVs and drones, service robotics, urban mobility, commercial and private space exploration, etc.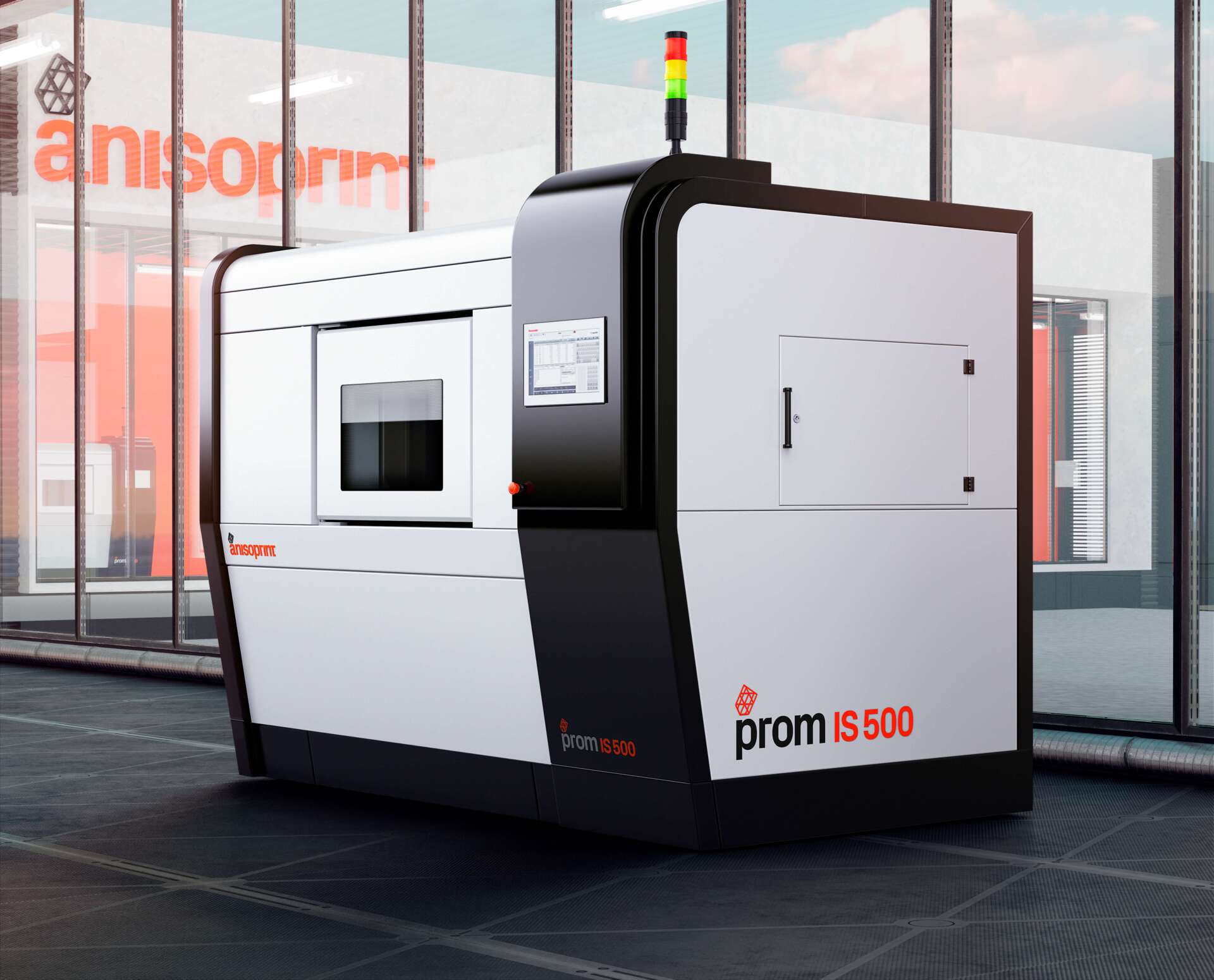 Call for beta users in Europe
PROM IS 500 launch will start with 10 beta users who will get their machines early next year under special terms. The testing is to take around half a year: the beta users are expected to work closely together with Anisoprint engineers and report their experience in exchange for full support. The provided feedback will allow to improve reliability, remove possible issues and incorporate all the necessary features so that at the end the first users will be able to get a fully functional upgraded machine.
Together with that there are certain criteria of selection: they need to come up with a valid industrial case that can be publically shared. The second point is diversity: different industries, different applications, and markets. Not only by the market type, but also for the company size counts: big, small, and medium. As for working closely Anisoprint needs to visit the users frequently and provide them with direct support, location in Europe is a preference.
What's next?
Anisoprint has a clear product development strategy that includes bringing new product types to the market every 2-3 years with each new product increasing the application range of the technology and either bigger or more productive, or offering more flexibility, or altogether. 2022 is the year of PROM IS 500 and focusing on customer research and understanding the market, its size and potential. In parallel there is also a plan to develop Composer 2.0. Composers have already found their niche that is clear and will be refined further.
During Formnext, visitors of the show will have the opportunity to see the PROM IS 500 in action. Anisoprint will demonstrate the machine at their booth in hall 12.0, stand C38.
About Anisoprint:
Anisoprint is a Luxembourg-based hardware startup producing 3D Printers that allow to manufacture continuous fiber reinforced plastic parts that can substitute metal ones in aerospace, engineering and many other areas along with cutting costs and increasing productivity.
Continuous Fiber Coextrusion (CFC), the technology that was developed and patented by the company, allows to create lattice structures, which is the key for multimaterial optimization and production. Such parts are lighter, stronger and cheaper than their metal analogs.
We are now on the cusp of a new industrial revolution that will bring customized production and zero waste technologies worldwide.