Smooth PA is a branded Nylon based material, developed by Polymaker especially for use with Anisoprint Composer A4/A3. Comparative to other Nylon filaments on the market, Smooth PA features low moisture absorption and makes use of anti-warping technology. Perfect surface quality and ease of use also make it the best choice for most users.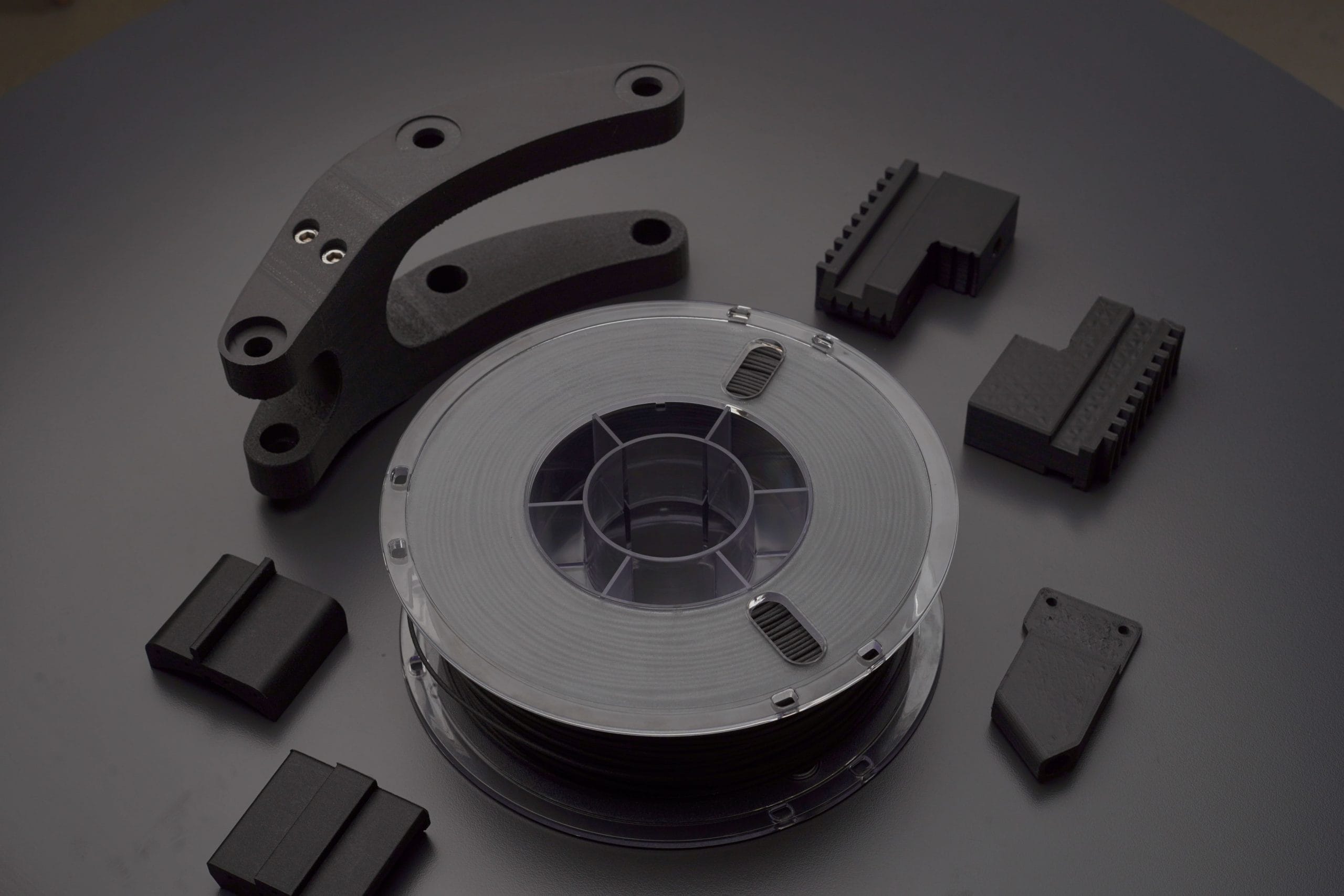 Main properties
As most other plastics from Nylon family, Smooth PA is suitable for printing functional parts, requiring increased strength, toughness and durability.
| Property | 100° annealed |
| --- | --- |
| Tensile Strength (X-Y) | 71.8 MPa |
| Young's Modulus (X-Y) | 5.82 GPa |
| Tensile Strength (Z) | 15.2 MPa |
| Young's Modulus (Z) | 1.05 GPa |
| Bending Strength (X-Y) | 109.97 MPa |
| Bending Modulus (X-Y) | 3.54 GPa |
| Compressive Strength (X-Y) | 81.4 MPa |
| Compressive Modulus (X-Y) | 6.13 GPa |
| Elongation at Break | 2.46% |
| HDT (0.45MPa) | 131°C |
| Notched Charpy Impact | 17.69 KJ/m2 |
Printing guidelines
NB! MAKE SURE YOU ARE USING THE LATEST VERSION OF AURA SLICER AND YOUR COMPOSER A3/A4 IS PROPERLY CALIBRATED BEFORE PRINT.
Temperature
Smooth PA is best printed in between 250 and 270°C. The standard profile for 0.4 hardened steel nozzle utilizes 265°C, which allows for unobstructed plastic flow and great interlayer strength while maintaining good accuracy of small elements and overhangs. Printing with closed cover is recommended, but not required at normal conditions (room temperature, no external airflows like air-condition).
Speeds
Speed of 40-50 mm/s is recommended for standard Composer A4/A3 setup. On external shells, lower speed might be beneficial for achieving the highest surface quality
Buildplate adhesion
Not every adhesive is suitable; Magigoo PA provides good sticking during print and easy release after the finish. Best adhesion is achieved at 55-60°C. Higher temperatures might lead to warping and are not recommended. Watch the first layer when printing big parts, and recalibrate, if the layer is failed.
Drying and storage
Unlike other nylons, Smooth PA can be printed from open-air, without a significant decrease in part quality. When printing longer prints, the use of an active dryer is recommended at 60°C. Store the material in a dry place (sealed box with silica gel works well). 
Nozzles
Smooth PA requires an abrasion-resistant nozzle. Composer Hardened steel nozzle (0.4 or 0.6) is a great option.