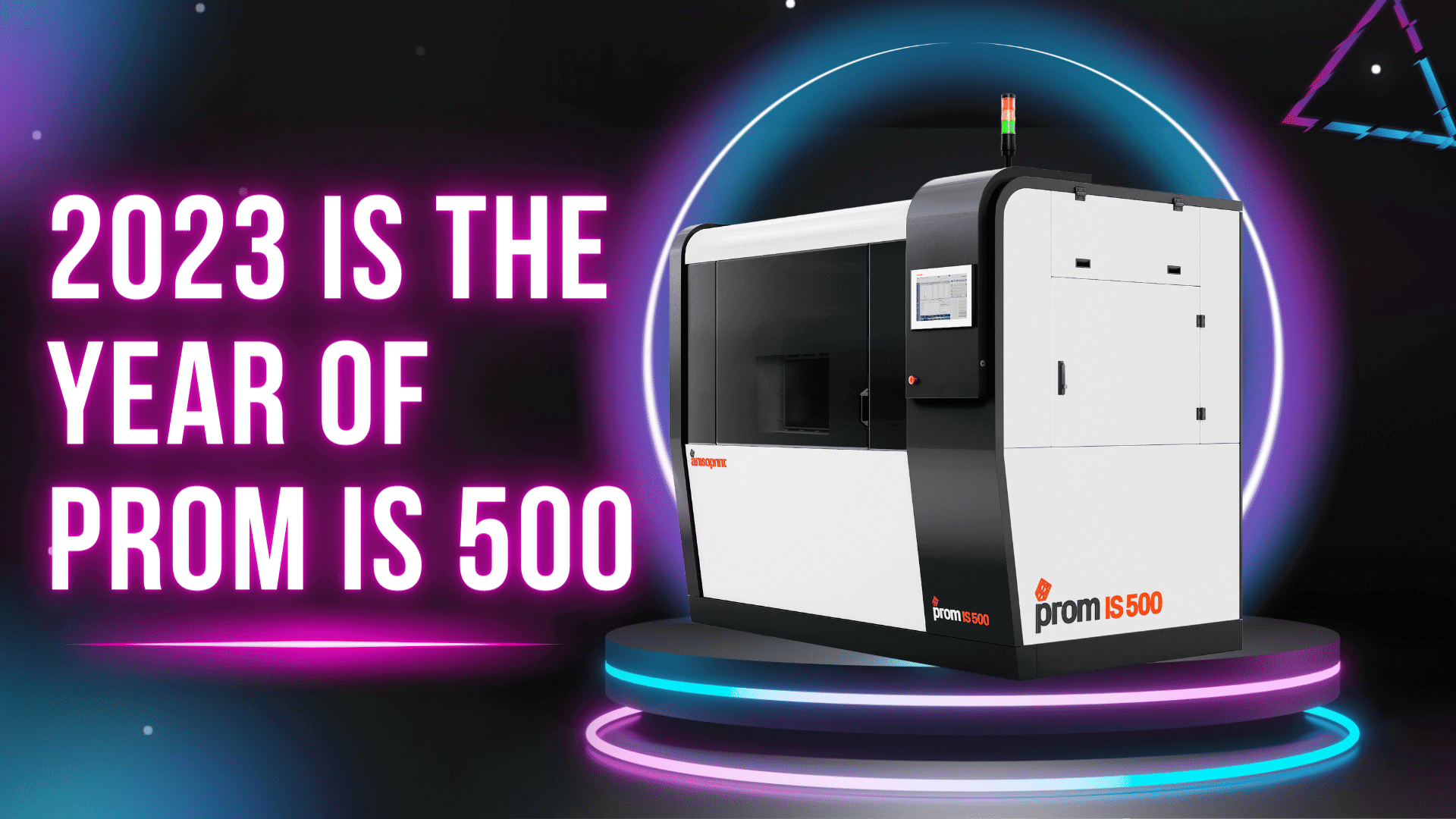 What is the next big milestone for industrial anisoprinting?
Eugene: Currently, we are at the stage of completing the first batch of machines for our beta-testers and plan to ship them by the end of 2022. Following the testers call last year, we signed agreements with first clients: these are companies from aerospace and R&D centers. Each printer was individually customized according to the demands of our testers. After the delivery, we expect massive feedback from our testers that will give further direction for customization.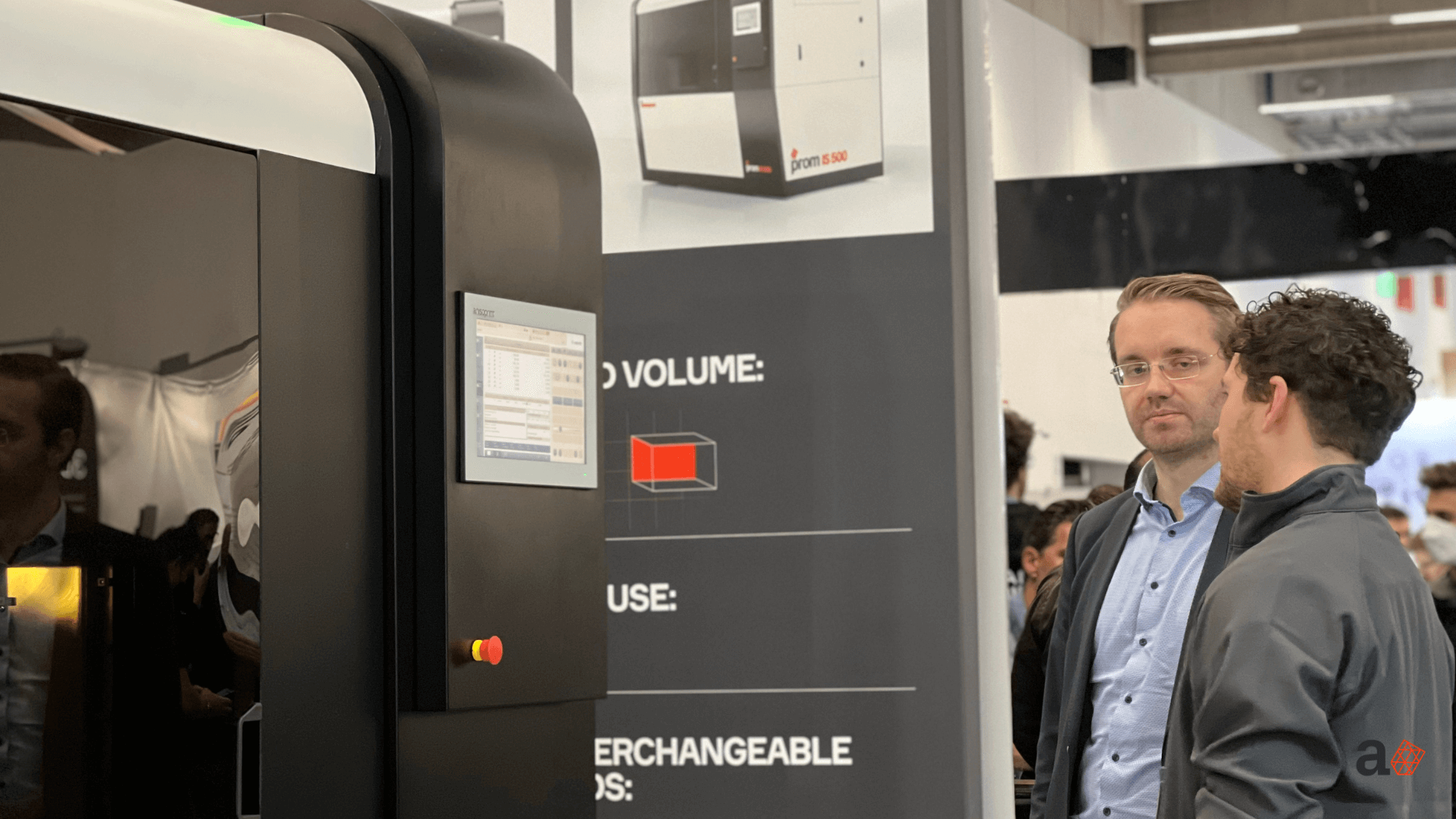 What is the idea behind PROM IS 500?
Eugene: The machine consists of the heated chamber, electronic and mechanical components, and tooling: which is 4 pieces. While the print head in Composers has two nozzles: one for plastic and one for fiber, for PROM IS 500 it has one extruder per print head, for plastic or fiber. It enables the use of various materials. 
The machine like this becomes a universal foundation for all kinds of tasks. Industrial equipment is like a construction set: One can use different modules, they are quite easy to combine. There is a set of industrial equipment with certain capabilities, and we can play with them: If it's all compatible — and most industrial equipment is compatible — everything is easily adjusted in the firmware.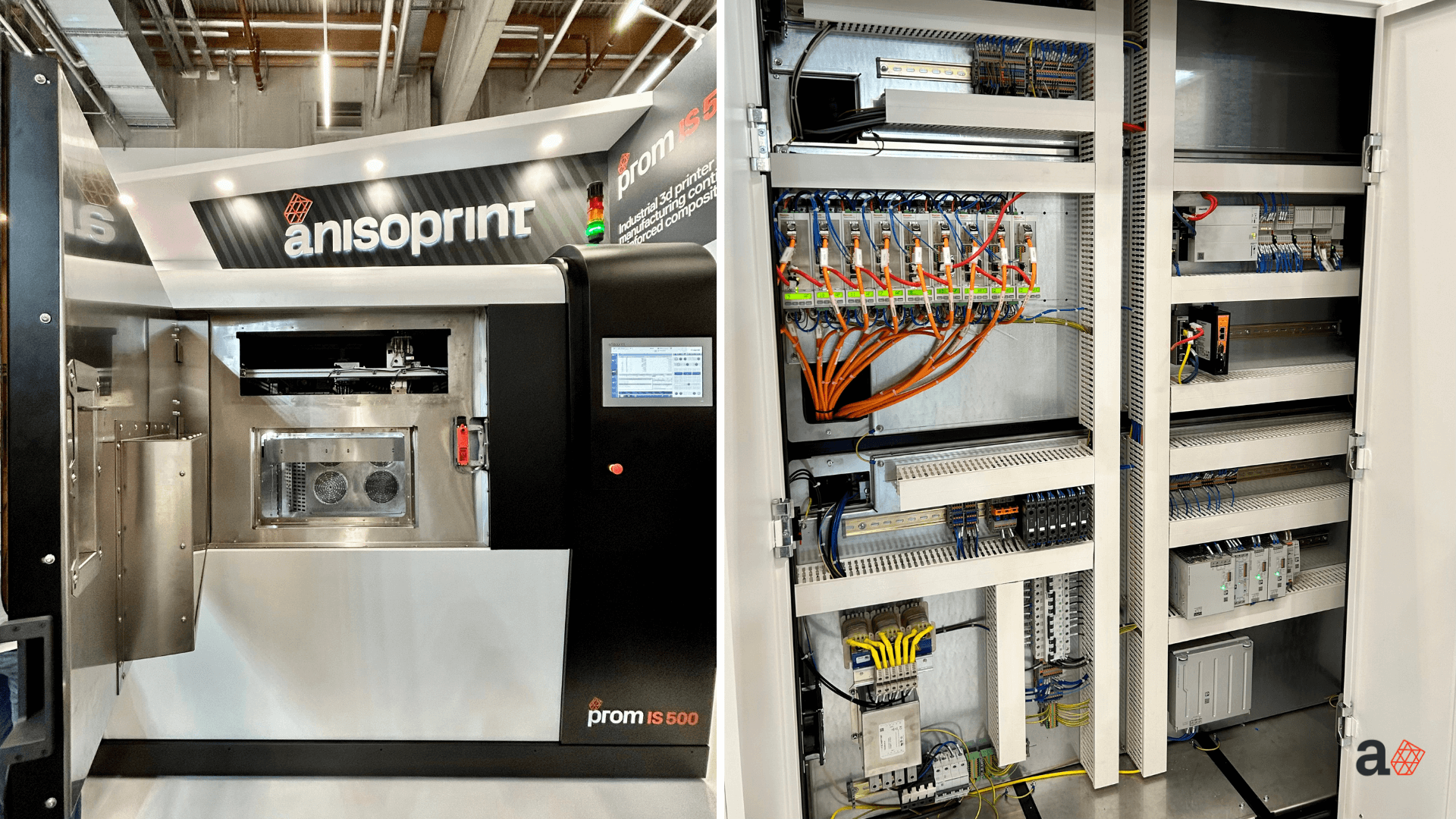 There is an option to install up to 4 print heads and keep a set of other tools in stock. Print heads can be different: 
— For carbon fibers, 1K and 3K thick;
— For high-temperature plastics (PEEK, PEKK, PEI); 
— For low-temperature plastics (polymers like PETG, ABS, and PA);
— With different nozzle diameters (so you can print the neat outer surfaces with a small nozzle and all the rough stuff inside with a big one);
— For soluble supports (which saves money because HT (high-temperature) material is an order of magnitude more expensive than LT (low-temperature)).

And for other purposes, it all depends on the client's needs: high productivity, low cost, maximal strength, etc. This combination can be defined by the customer. The idea is to have a stock: print with an LT plastic and fiber when needed, then switch settings and print with an HT polymer print head. Because HT polymers are not required everywhere, we leave all options open. This meets the needs of businesses and laboratories, making it an industrial solution.
Eugene Babarykin, Product Owner at Anisoprint: "Industrial engineering is a world with a little different principles — all the components are standardized, compatible, and replaceable, which ensures that operations continuity remains intact."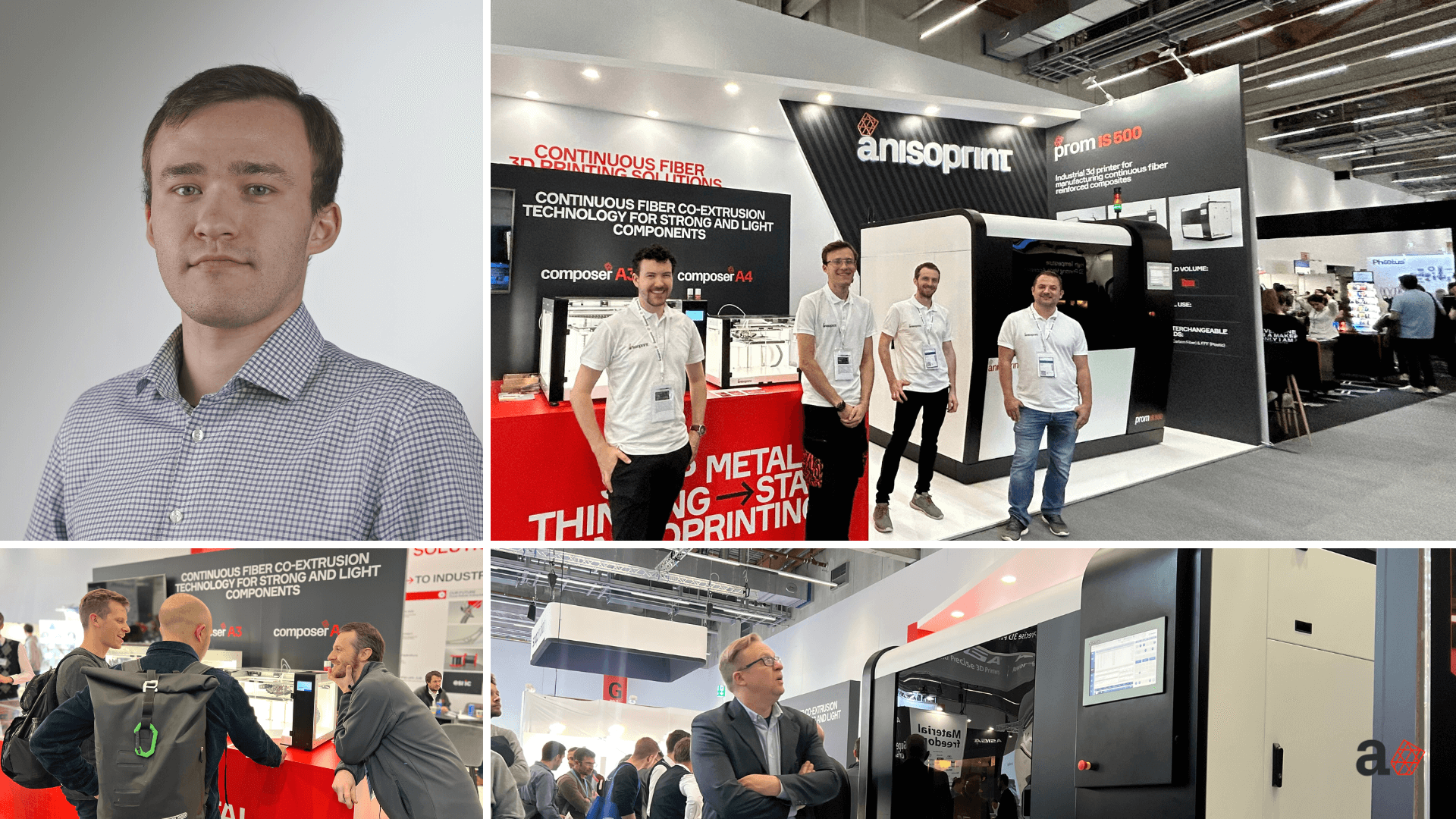 Specifications and compatible materials
| | |
| --- | --- |
| Build volume | 600mm x 420mm x 300mm |
| Printer size | L: 2.6m W: 1.8m H: 2.35m |
| CNC Technology | Additive technology with CFC module |
| Mechanics | Balls crews based |
| Tool changer | Up to 4 print heads |
| Maximum extruder temperature | FFF: 410°C (liquid cooling) CFC: 410°C (liquid cooling) |
| FFF Filament diam. | 1.75/2.85 mm |
| Compatible plastics | PEI, PEEK, PEKK, PAEK, PPSU, PSU, PA, PC |
| Reinforcing fiber, thickness | 1k – 0.28mm 3k – 0.50mm |
| Network communication | Ethernet , WiFi, USB |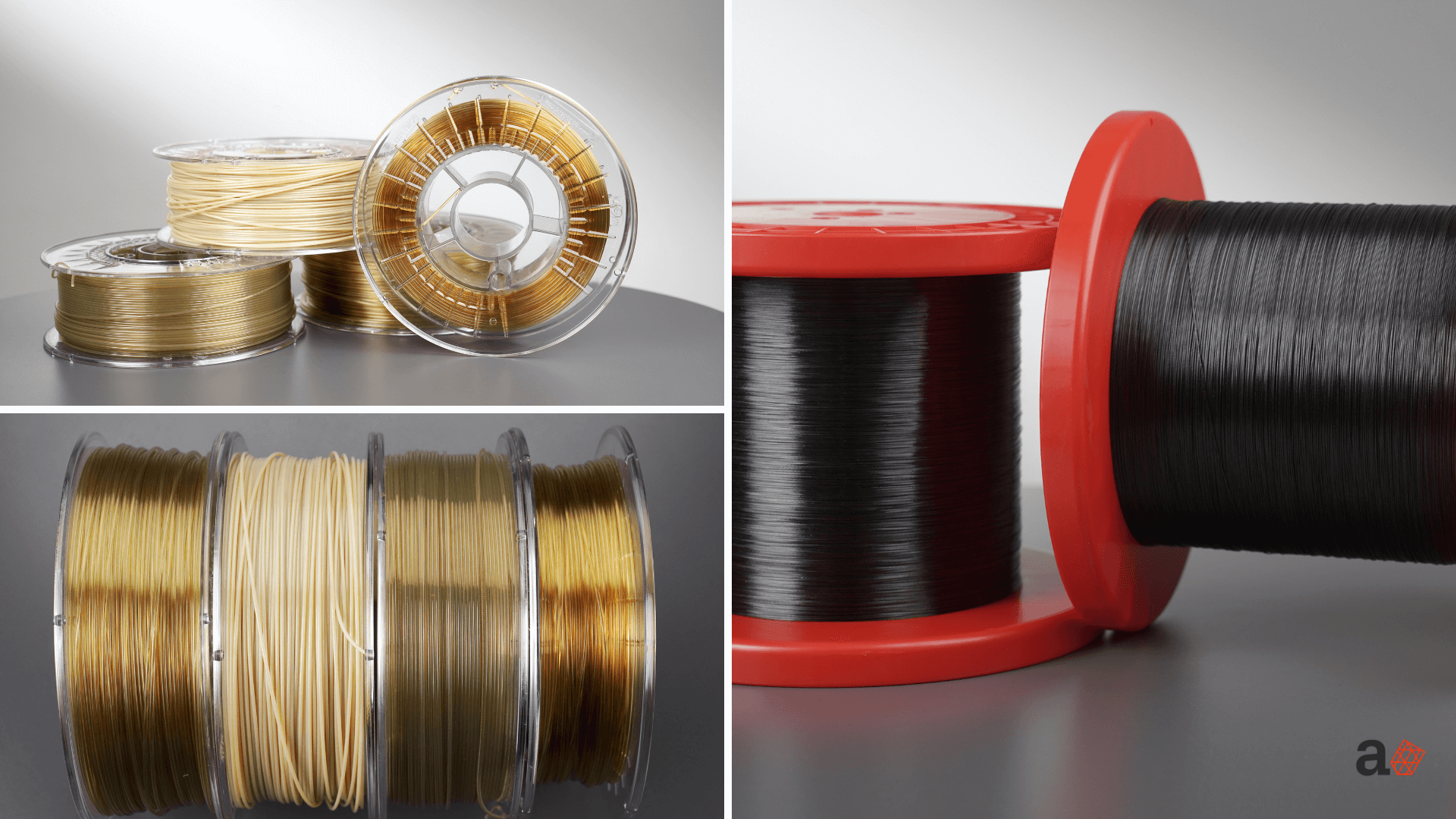 Looking back, what was the most critical challenge on the way to bringing this new industrial printer to market?
Eugene: The whole period from the announcement and development to delivering the machine was extremely intense and challenging. The years when the first prototype was built basically coincided with the pandemic and lockdown that disrupted all the supply chains and led to an electronic components shortage, so industrial engineering was affected by the crisis.
Now that the political situation in the world is extremely complicated, logistics and supply chains are again hit most and it poses some quite hard issues for the assembly. There is a chance the electronic components supply and manufacturing crisis can ease by the middle of next year, but we cannot be sure.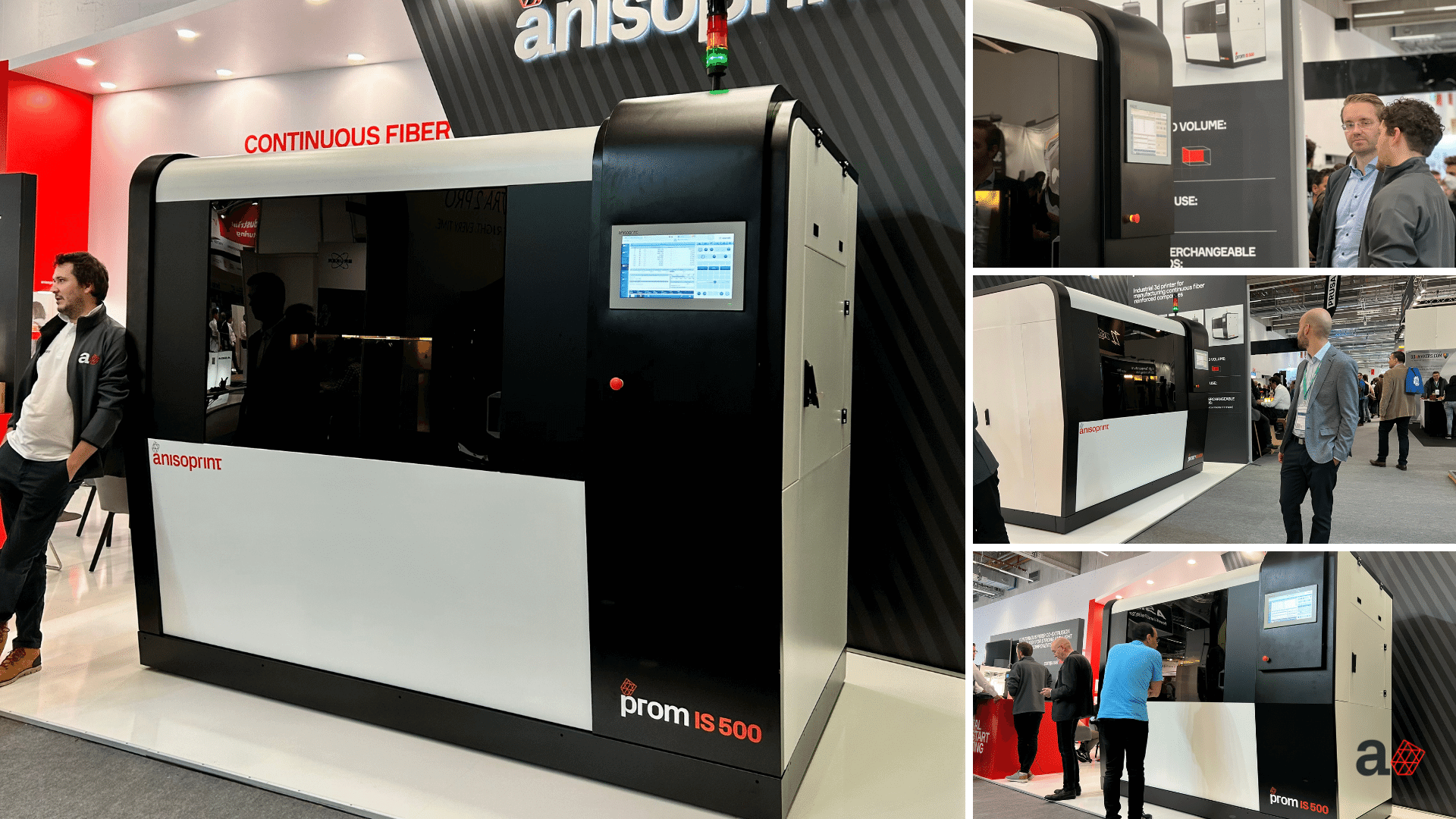 For what range of applications has PROM IS 500 been designed?
Eugene: The use range is not limited, while the operation conditions are broad: the equipment is suitable for a stable, 24/7 run. We positioned the machine as a high-temperature 3D printer for the industrial production of end-use parts. Among other materials, PROM IS 500 works with PEI, an HT plastic certified for aerospace, while the open flexible system is a fit for material research. So companies from these industries were the first to pay attention to the machine. But we also expect clients from the oil and gas industry, as HT plastics are a nice fit for pump turbines.
While conventional low temperature plastics used for FFF have a working temperature around 100 C, 
HT plastics used for manufacturing allow us to obtain components suitable for extreme environments: high temperature (150–-200 C), heavy loads, etc.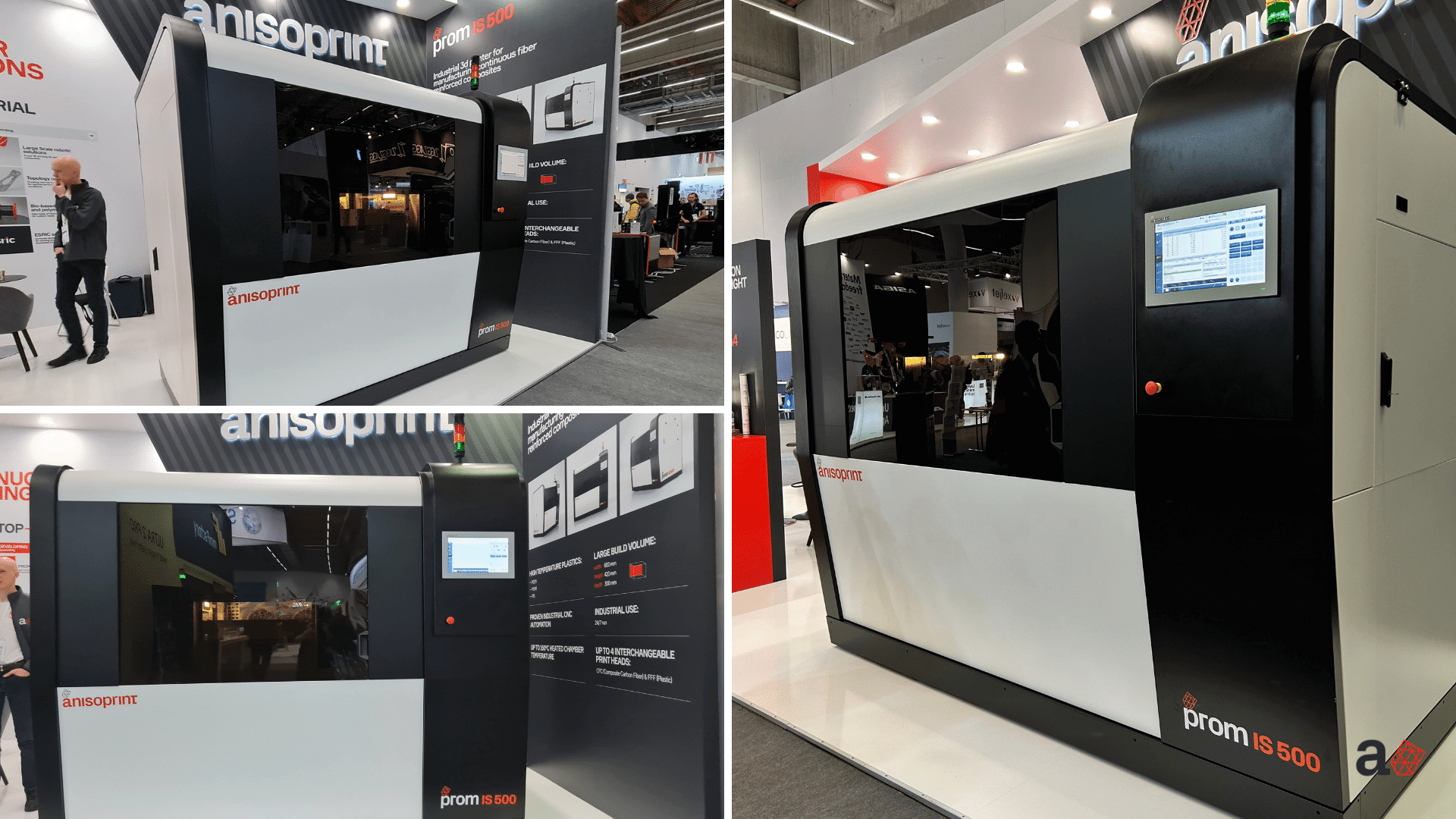 Curious to learn more about PROM IS 500?