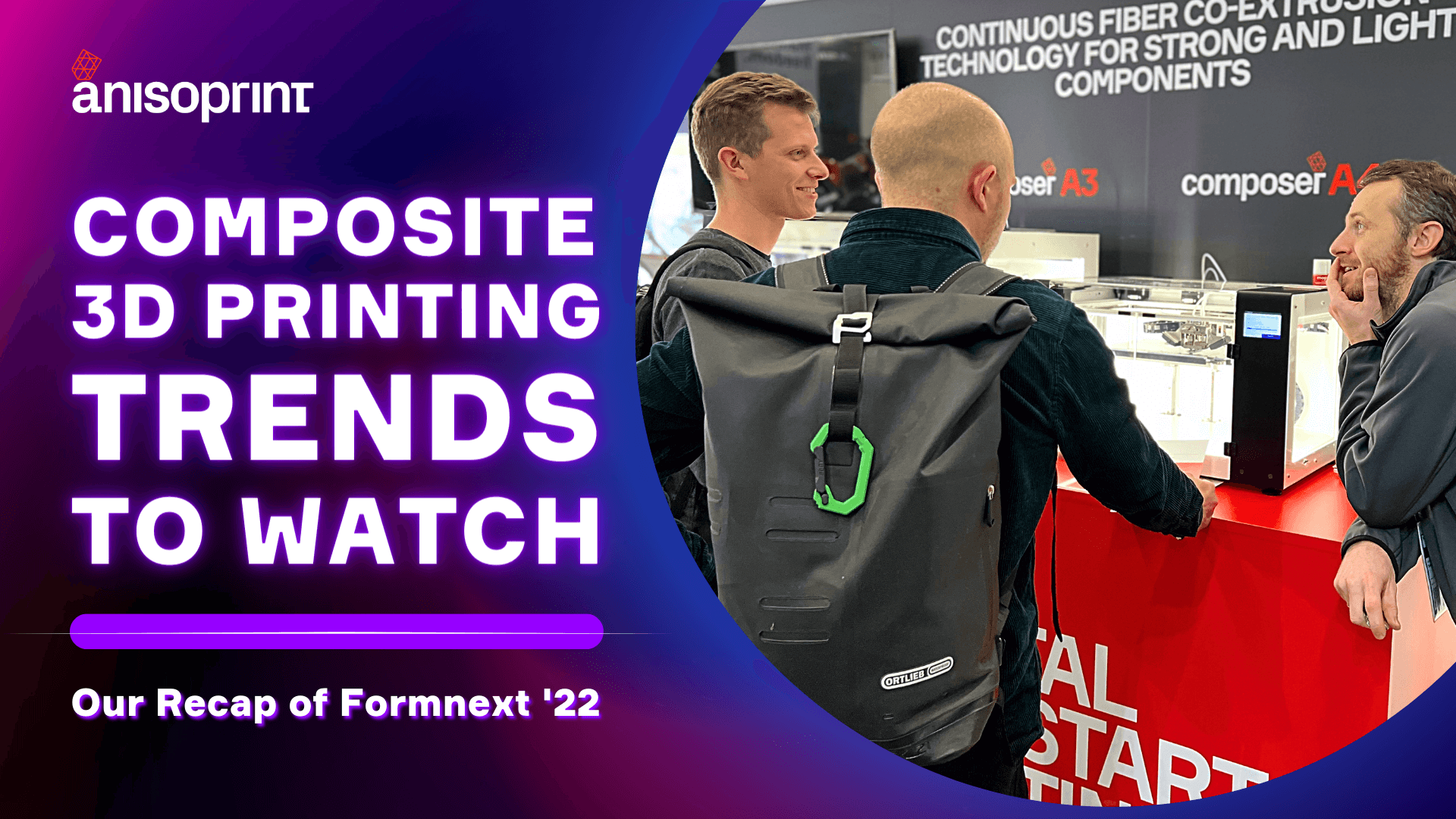 What have been your key learnings, take-aways and observations at Formnext?
Mikhail: This year, the maker fair vibe is fading: except Prusa, companies offer solutions for small and medium-sized enterprises.
As for composite 3D printing, the technology is not mainstream, probably due to patent issues. But the trust has been built up because everyone can see that the technology has been around for a while and therefore has both potential and customers. It was a pleasure to speak with major industry players who are now seriously considering composite 3D printing, it suggests that there is a demand for this technology.
It was great to catch up with the manufacturers who expanded but stayed with us throughout this time. At one point, I imagined myself to be one of those solemn gentlemen who sits at a coffee booth to discuss weighty matters with similarly solemn gentlemen. This year, it is much more business-like.
In addition, I noticed that startup booths have the most intriguing concepts: new ideas that are not yet fully known to the market. Although there has been some progress in our industry — composite 3D printing — I have not seen any revolutionary new products from the major corporations.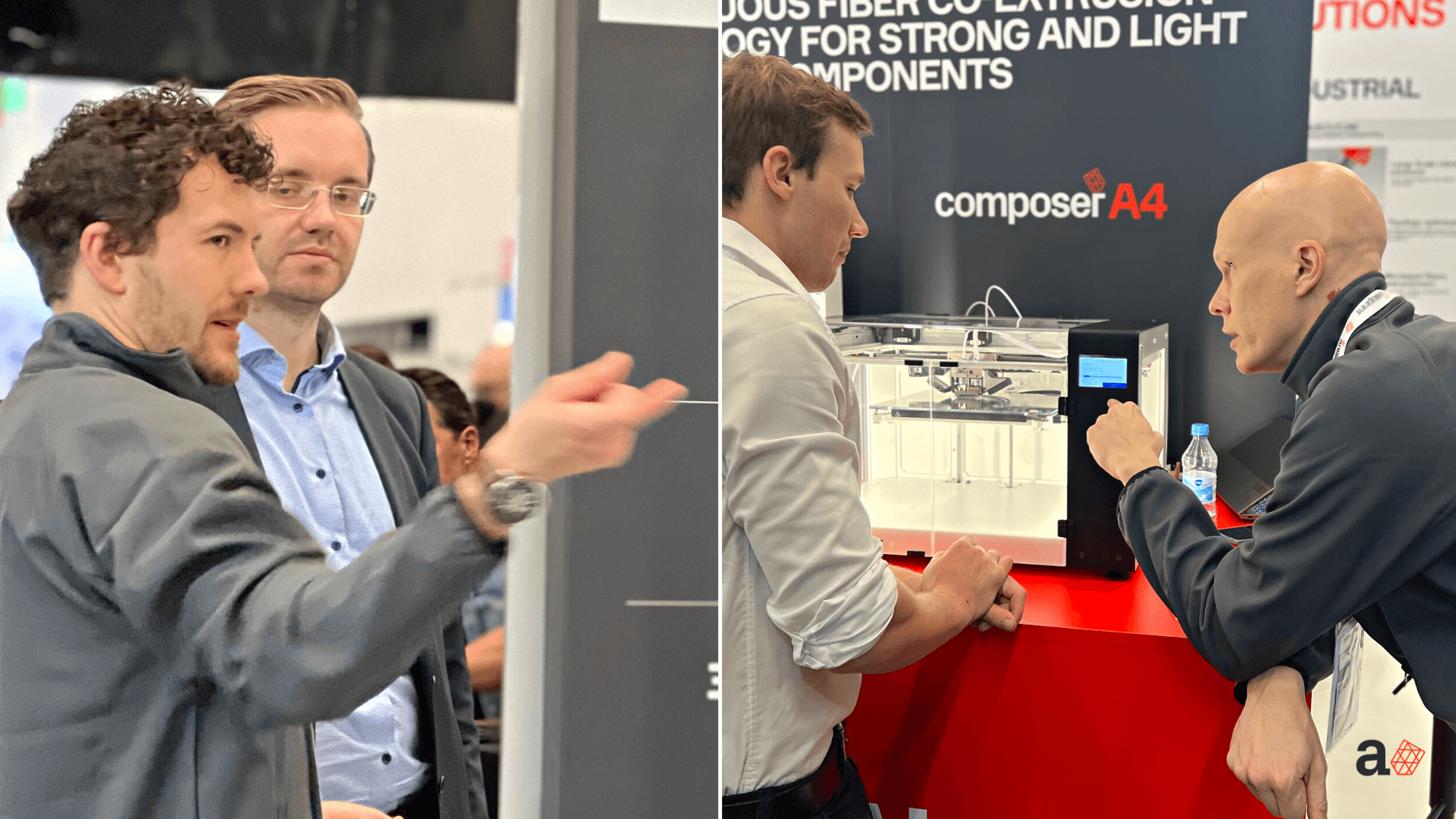 Clemens: Additive manufacturing technology is still primarily used for prototyping. I noticed a lot of industrial parts on the booths, which I really like. So it appears that AM is making its way from designers and makers to more industrial applications. But, according to the people working at the booths with the stunning industrial parts, they are prototypes and design studies, not all of them have real application so far. Even large corporate booths with large industrial clients in other sectors, such as injection molding, plastics manufacturing, and so on, struggle to bring AM to technical end use parts.
I see a lot of work to be done, particularly in terms of quality and cost, to bring the benefits of additive manufacturing to the end-use parts market. It also demonstrates Anisoprinting's enormous potential to drive the market for end-use AM parts due to its unrivaled mechanical properties.
In terms of my specific project interests, I'm always on the lookout for robotic printing systems. It is also evolving, with more hardware and software providers appearing. However, it is still primarily used for metal, clay, and plastics printing with wide tapes. Highly complex parts with thin layers, varying anisotropic infill patterns, and layer adhesion are still rare. Many people, in my opinion, want a robot to print and are impressed by its appearance, but the complexity is great and the technology is still in its early stages.
Last but not least, there isn't much new to discover. Almost all of the concepts presented are already well-known and were first presented a few years ago. Manufacturers are now adding features like high temperature printing and so on to more of their machines.
Was there anything you looked forward to see or experience at Formnext this year that was missing? What was it and why do you think it was missing?
Mikhail: Full-fledged 3D printing is still limited to piecework prototypes based on robotic manipulators. There are no advances in software or more affordable hardware (so that enthusiasts write software themselves). Everyone is still interested in the idea, but it appears that some people lack the resources and others lack the desire.
Clemens: Real end use components. I expected AM to be recognised as a viable production technique by now, but it's still far away. However, according to some manufacturers, Formnext is more of a "maker's" fair than a true industrial trade show.
AMPOWER has just released a new Polymer AM Maturity Index. How do you perceive the maturity of Continuous Fiber Material Extrusion?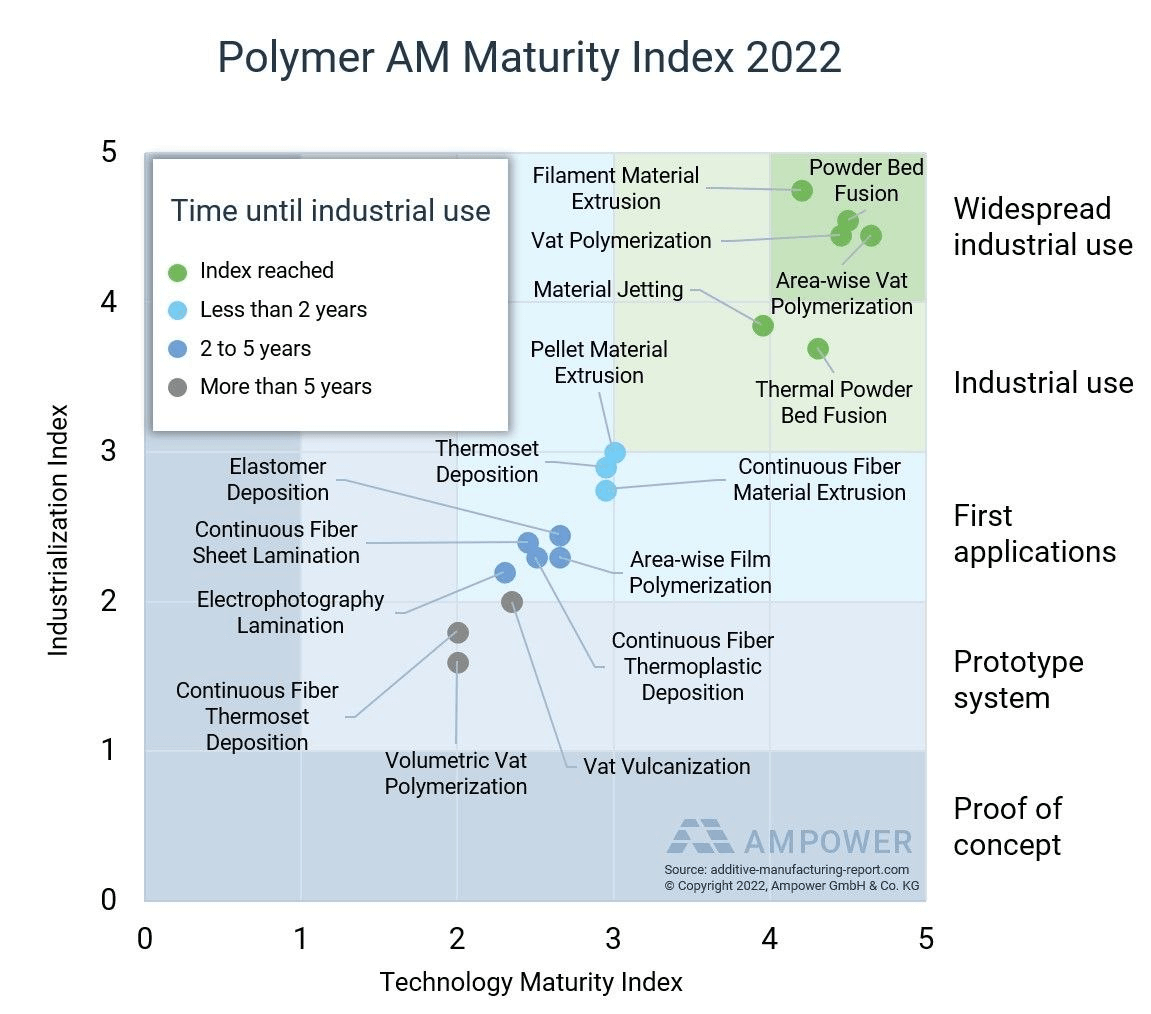 Mikhail: I believe that it will take CFC (continuous fiber coextrusion) or continuous fiber material extrusion up to 5 years to become a widespread industrial technology. The main issue is the confidence that the technology works.
Previously, industrialists had no idea what we were talking about, and were skeptical when heard about 3D printing; they were only familiar with conventional FDM printers and unloaded plastic parts. Each year, an increasing number of businesses begin to use 3D printing in their manufacturing processes, broadening the range of technologies considered acceptable in the field. This is a non-linear process; the more major companies use the technology, the more there will be next year, it's a competition. The risk of using untested technology is replaced by the risk of losing a competitive advantage to competitors who are already incorporating the technology into their manufacturing chains which is a lengthy process.
The entry of PROM IS 500 into the market will significantly accelerate the advancement of technology. There are numerous details, successful and unsuccessful outcomes, printing hours, and experimental data. And the more information that circulates in the community, the more applications will emerge.
What will be the key challenge for the composite 3D printing industry in 2023?
Mikhail: I expect a race for high-temperature 3D printing solutions. Many solutions for low-temperature polymers have been released, it is difficult to offer something fundamentally different from competitors; one can perfect materials, printing modes, cloud services, and optimize production costs — but not the technology itself. There are currently few options for high-temperature printing. I'd also like to see the development of multi-axis robotic printing solutions, but I doubt it'll happen.
Clemens: I see three key challenges — materials, application cases, and dfAM. First of all, it's all about providing wider material choice, offering cheaper options, their certification, and safe supply. Second one is developing proper use cases with certified products to build trust for the technology. And the third is making the design process simple and available for everyone, ideally with topology optimization or at least with an option to simulate in FEM (finite element method).
Anisoprint offers cutting edge solutions in composite and high-temperature 3D printing. Subscribe to our digest: