With anisoprinting, or continuous fiber co-extrusion (CFC) technology, users are free to create custom fiber trajectories, as our slicer Aura allows flexible fiber steering. Orienting the fiber paths makes use of anisotropy and allows to achieve high mechanical properties and also use a reasonable amount of material and prevent waste.
Anisoprinted fiber 3D prints are not only strong and durable, but also ideally suited to create fully functional prototypes. Clemens Schwöbel, Robotics Engineer at Anisoprint used this technology to create an additively manufactured bicycle handlebar unlike any other.
For fiber steering in complex parts, Clemens resorts to Truss optimization (that allows axial only loading) with a generative approach: "growing" a reliable and reasonable structure defined by loads, materials, etc. within several dozens of iterations.
Continuous Fiber Composite 3D printing of generatively designed bike parts
Even though the TO results in highly complicated designs, with additive manufacturing, it is possible to manufacture more complex parts than was possible with traditional manufacturing techniques, like prepreg or hand lamination. This makes anisoprinting an indispensable technology for creating more advanced topologically optimized components or generatively designed parts. 
With a proper design for composites, the seemingly complicated shape becomes easy to manufacture: software generates suitable tool paths according to the optimized structure obtained during the TO and generative process.
Below is a custom bicycle handlebar fragment with optimized fiber paths based on Truss method. After the finite element analysis (FEA) the areas that do not bear loads were cut out.
The most valuable aspect is that you can go from your load definition to the final directly manufacturable layout in a single step, and it doesn't require much knowledge of fiber design or 3D printing; it's all in the software.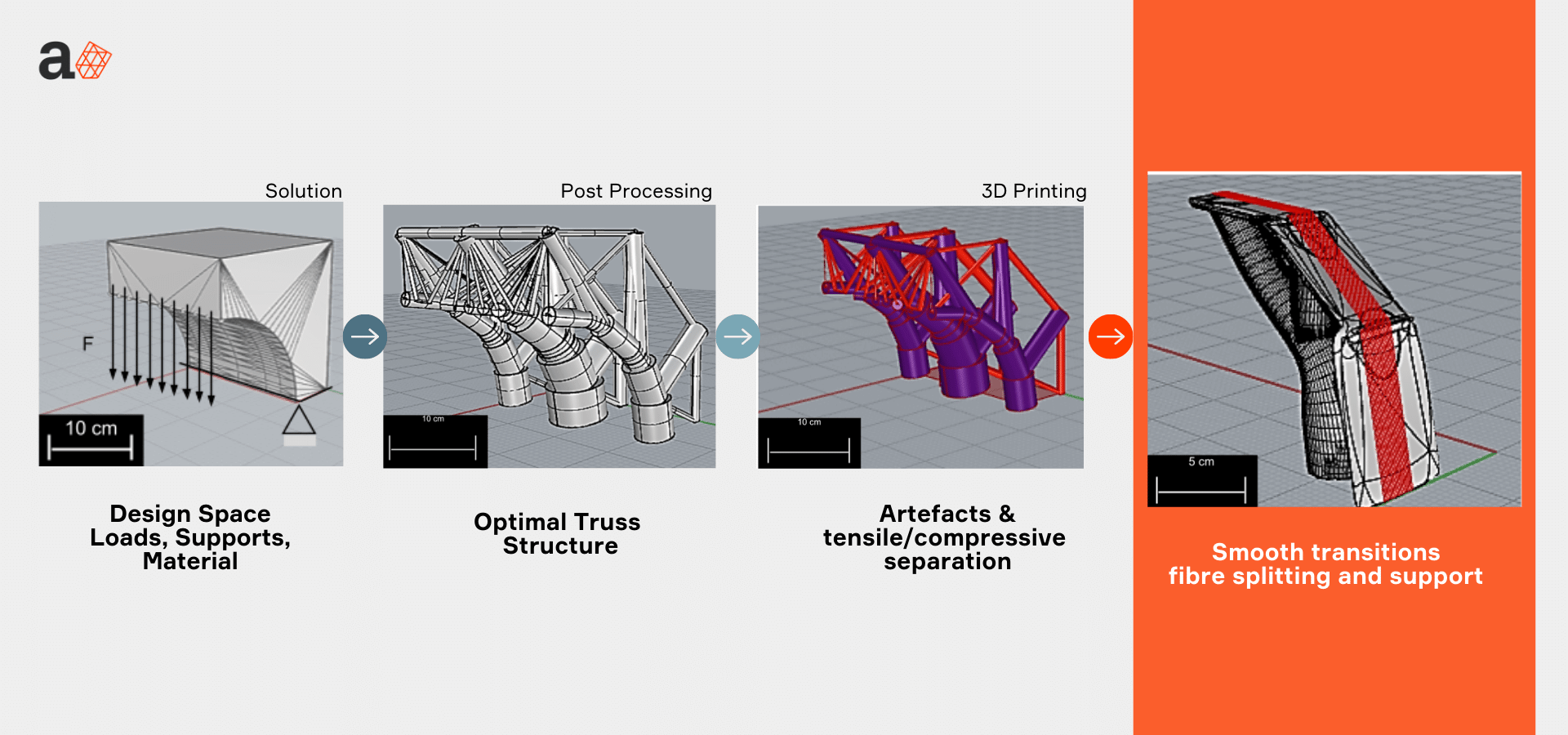 Most if not all other carbon bars are made of prepreg or braiding so the directional strength properties are lost. Clemens' bar is partly filled with anisogrid lattice structures as well as unidirectional layup sections. It's a complex layup design but "easy" to 3D print without additional effort.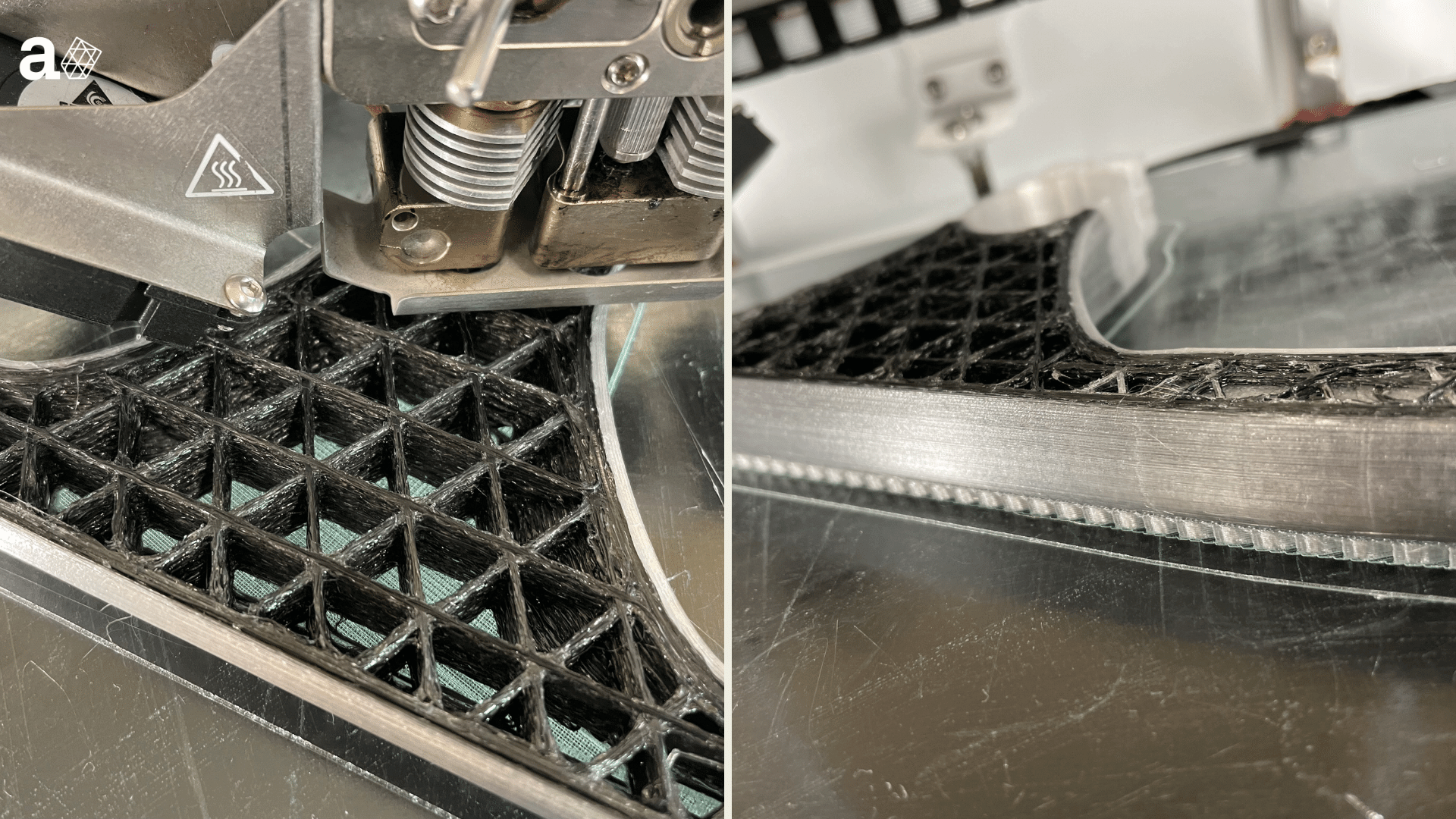 "That's one of the key advantages of 3D printing," says Clemens Schwöbel. "You get complexity for free. For the printing process, it does not make any difference, the printer easily handles every complex geometry. And with Anisoprint's technology these general 3D printing benefits now also become available for Continuous Fiber Composites."
Advantages of the optimized carbon fiber bicycle handlebar:
The handlebar is not only a great proof for the performance of anisoprinted parts, it also demonstrates the future of composites:

— Light weight and high strength compared to its metal counterpart.
— No molds required: The underlying parametric CAD model can be tailored to any client's needs and wishes without additional production efforts
— Fiber steering: Optimum orientation of fibers in the part according to loads
— Allow easy customization within minutes.
— Calculated and manufactured fully automatically.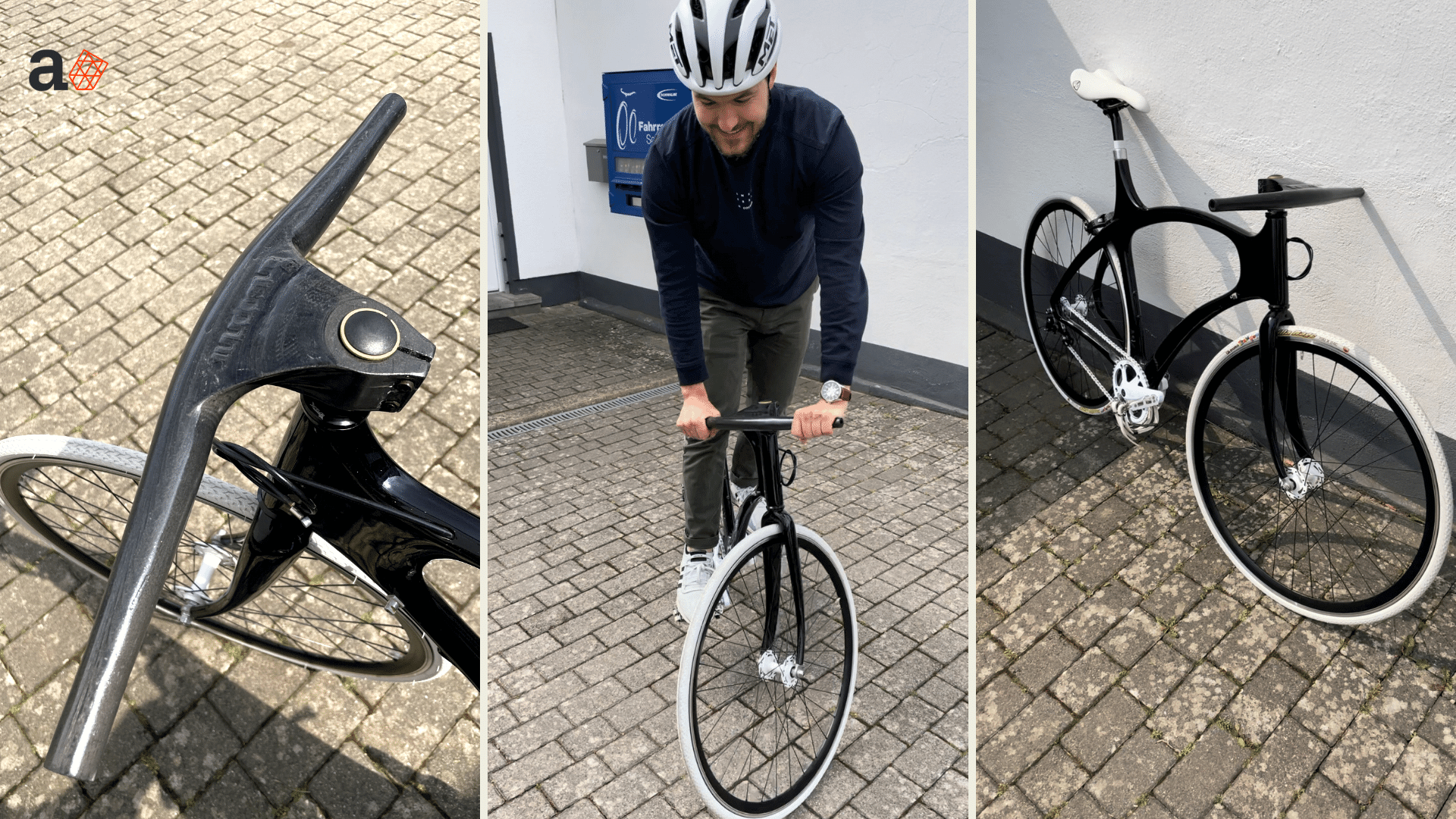 BICYCLE HANDLEBAR PARAMETERS
| | |
| --- | --- |
| Material | Carbon fiber and Smooth PA |
| Bar Length | 420 mm |
| Weight | 358 g |
| Print time | 65 h |
| Design features | Reinforced perimeters, anisogrid and solid infill. |
Durable and light custom cycling sports equipment with CFC
Continuous fiber coextrusion offers a new and promising way of producing CFRC. The fully automated technology facilitates the design process and has the potential to promote composites into a wide range of industries that currently do not benefit from composites yet.
Sports is one of the pioneering customized and wearable products industries that currently introduces the use of composites – like in our previous case studies on a mountain bike suspension rocker arm, lever for diving equipment, and a race car parts.
Plus, the nature of continuous fiber composites allows flexibility to further improve selected or required parameters so that the components are always optimal and reliably performing.